Our Family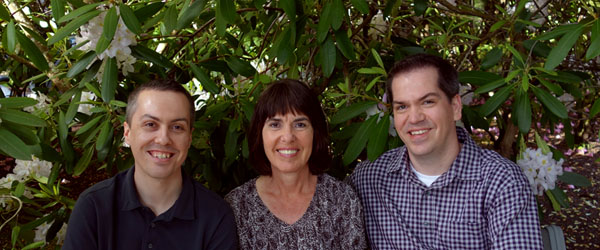 Probably the best thing about living at A Big Heart adult family home is the comfortable family feeling. That's because we are a close and loving family. Living here you will benefit from the care of people who communicate and collaborate well with one another. JoAnna and Shad (co-owners) live just five houses down the block. That means there's usually extra help available just a few steps away.
Brandon
Our registered nurse, Brandon has over five years experience working in acute care. Prior to owning A Big Heart adult family home Brandon was employed by Providence St. Peter Hospital. As a cardic nurse caring for patients with cardiac disease. He sometimes he would serve as a primary hospital responder for emergencies, or "codes", that occured within the hospital, and occasionally worked in the critical care unit. Prior to working in the hospital setting, he worked at an assisted living facility in Seattle that specializes in Alzheimer's care. He is familiar with the special needs of people suffering from a variety of medical conditions. Brandon serves A Big Heart adult family home not only as a fulltime caregiver, but also as our own personal "dial-a-nurse" on an on-call basis. Fast access to a medical professional who is familiar with our residents helps ensure their health needs are always met. Under Brandon's vigilance, we can better serve our residents by utilizing a proactive and preventative model of care.
In his free time Brandon enjoys spending time with his family, playing guitar, hiking and fishing. As an amateur photographer, Brandon has had his work displayed in art museums and galleries both domestically and abroad.
JoAnna
Chances are you won't see JoAnna without a smile on her face and her lumbering yet friendly bulldog, Princess, in tow. JoAnna is our primary day shift certified nurse's assistant who helps keep our residents fed and entertained. JoAnna is passionate about cooking, and challenges herself to create dishes that are both tasty and healthy. Our multi-talented and always friendly mother is just as skilled with a pair of scissors as she is with a chef's knife. JoAnna is a licensed cosmetologist who has worked almost exclusively in nursing homes and assisted living facilities as a traveling hair stylist. She is particularly talented with perms and roller sets.
Shad
Shad is our quiet genius. He is kind-hearted, genuine, and patient. He is a certified nurse's assistant who stays up all night to assist residents with anything they might need. Shad has worked in the past in the customer service industry. He spent several years working for DirecTV as a technical support agent. His knowledge of computers and electronics makes him our go-to guy for our home's computers, satellite TVs, and other fun electronic gadgets. He is always happy to assist our residents in setting up email, Facebook, Skype accounts, etc. and built this very website you are using. He's currently working on adding laptops and tablets to our network for our residents to enjoy. Shad loves to travel, fish, camp, hike, watch boxing, and surf the Internet.
Princess
Princess is a four-year old English bulldog. She is best friends with Joanna. Her hobbies are diverse and include: eating, napping, approaching strangers for love, sleeping, chasing laser lights, dozing, long walks in the park, looking fabulous, and lying around doing nothing at all. She is a native Washingtonian who is a real people-"person". Princess is a loving canine who enjoys spending time in rehabilitation facilities and hospitals greeting and cheering up everyone she encounters. Although not a permanent resident at A Big Heart, Princess frequently stops by to say hello.